01/04/2022

Entrepreneur Powered By Credit Corporation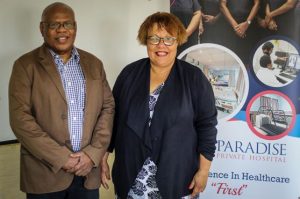 Janet Sios started her career as a chartered accountant in the corporate world but it wasn't long before she was ready to branch out on her own.
First, she started Frangipani Car Hire, now the number one car rental business in the New Guinea Islands. She also established a printing company of the same name.
After proving she could make it on her own, she teamed up with her husband, Dr Robin Sios, a well-known clinician who specialises in obstetrics, to take over the operation of Paradise Private Hospital (PPH) in Port Moresby, making it PNG's first nationally-owned private hospital.
The 40-bed hospital has grown from a humble start to becoming a leader in specialized health care services, treating over 50,000 patients a year and employing over 120 staff.
Janet says her relationship with Credit Corporation is one of the reasons behind her success.
"There is a trend of more Papua New Guineans going into business and, because of that, support from financial institutions like Credit Corporation is critical," Sios says. "Other banks take their time and can be cumbersome but Credit Corporation pays attention to me as a business woman and makes access to finance easier.
'Education is also really important and my base in accounting helped me with the challenges I faced while trying to become a financially-independent woman."
Running PPH during a pandemic has been very stressful, admits Janet, but the hospital has been able to use Credit Corporation's asset finance to purchase important machinery, such as its digital mammography system. "The next challenge is digitisation, as currently it is all manual – the previous owner didn't believe in digital," Sios laughs.
"Two years from now, the hospital will be fully digital, appointments will be better managed and we will have a system that is managed through the Cloud, which frees us up to concentrate on running the business."