24/05/2023

Credit Corporation renews commitment to early childhood literacy with Buk Bilong Pikinini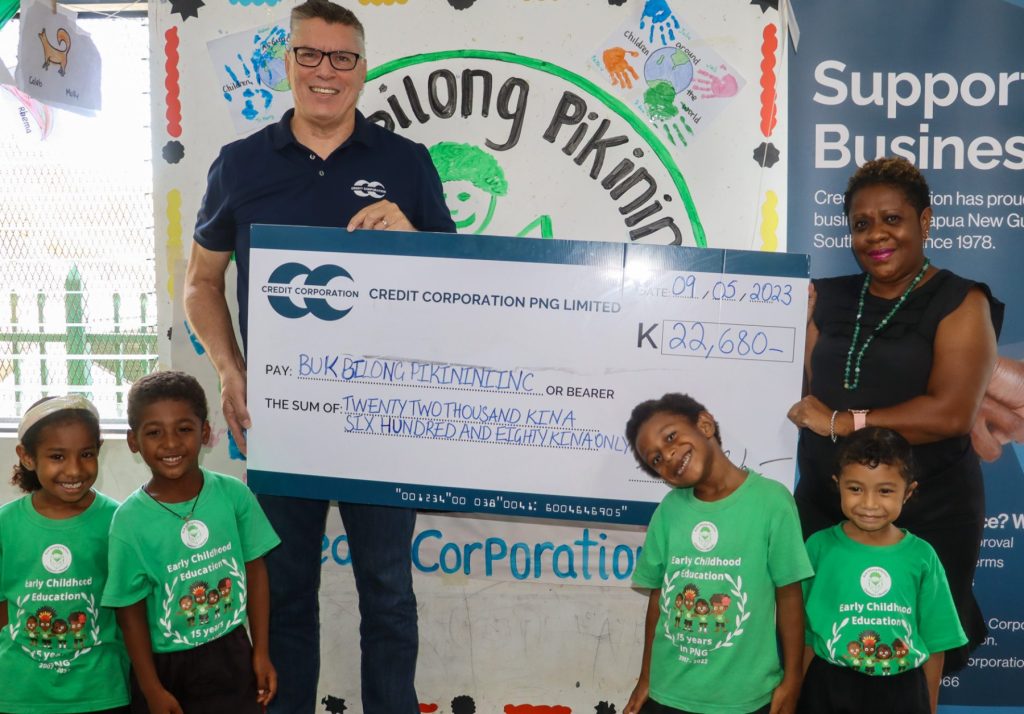 Credit Corporation CEO, Danny Robinson (left) and BbP Executive Officer, Leanne Resson, with children from BbP's Vabukori Learning Centre.
Leading finance company, Credit Corporation (PNG) Limited reaffirms its commitment to supporting education and literacy initiatives with a donation of K22,680 to non-profit organisation Buk Bilong Pikinini (BbP).
Credit Corporation has been a proud supporter of Buk Bilong Pikinini since 2019, recognizing the vital role that the non-profit plays in improving the country's literacy rates through its Early Childhood Literacy, Numeracy & Awareness program.
"We are delighted to continue our support for Buk Bilong Pikinini and their efforts to promote early childhood literacy in Papua New Guinea," said Danny Robinson, CEO of Credit Corporation (PNG) Limited. "We believe that education is the foundation for a better future, and we are committed to helping children across the country reach their full potential."
He further added that with the support of Credit Corporation and many other organisations within the community, BbP will continue to provide a platform for children to learn, grow and succeed in the future.
With this donation, Credit Corporation aims to contribute to the ongoing expansion of BbP's library learning centres, the development of early childhood programs and the provision of essential educational resources to remote communities.
In thanking Credit Corporation, BbP Executive Officer, Leanne Resson, said, "We appreciate Credit Corporation's continuous support over the years and for recognising the importance of early childhood literacy in building a better future for all Papua New Guineans."
The donation is part of the company's social responsibility program and reflects its ongoing commitment to supporting the communities in which it operates in.